cause we had quite a weekend.
a lot of it was spent watching some madness that took over our weekend.
wait, i think i can hear the chapel hill crowd cheering from here...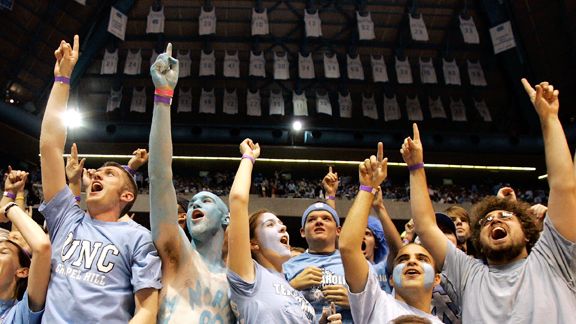 yeah! carolina's going to the final four!
which means next weekend will also be consumed by games, but just not quite as many. and probably not as much of a clear lead as the two games this past weekend. i'll be honest--my eyes weren't open for the majority of the 2nd half of friday's game. and i read through most of the one yesterday, while doing laundry and such. i'm a fan, but just not completely glued to the TV if they're already ahead by 15 or so point.
and when we weren't watching games, we were shopping in fayetteville. grandma needed several items to make living with an arm cast a little easier. so we took her shopping, and i picked up a few things for myself, too. i love shopping for spring/summer clothes--especially after such a dreary, wet winter we've had.
on sunday, we were able to actually enjoy the sun and see fayetteville coming into full bloom. they're a little ahead of us as far as blossoms coming out, and it was awesome to see the dogwood trees budding. in about two days, it will be absolutely beautiful across the city. one of my favorite fayetteville events is the dogwood festival, which is held the third weekend in april. granted, it's inevitably weeks after the dogwood trees have bloomed, but i do love the street fairs and concerts that go with it.
we had lunch with dad and joy and were able to make it home in time to do a few loads of laundry, watch the game, do some grocery shopping and visit with justin's mom for her birthday. lately, it seems like the weekends fly by. just about the time i'm ready to relax, it's time to start the work week again!
on a personal note, i got a haircut :)
i walked in and was able to find a couple of photos that accurately showed what i wanted. the stylist did a great job and i'm thrilled to finally have something resembling a "style." i was trying to grow my hair out so i could put it in a ponytail by summer... but that never works. i get impatient, fed up with not being able to do anything with it, and chop it off. i think i just need to keep it short--that's always where i end up.
how was everyone else's weekend?