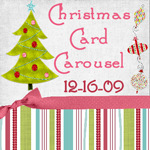 i saw this blog carnival over at
walk with me by faith
and thought it might be fun to join in.
mcmommy
has one going on, too, if you want to check those out. i love doing photo cards at Christmas, and even though i haven't gotten mine out yet (i'm determined to address them on our way to a wedding this weekend) they are done and sitting on the coffee table as we speak. they will get out by Christmas, so that's all that matters, right?
this year i went with sam's club because they were running a crazy deal where i got 100 cards for $15 the weekend after thanksgiving. i went through a very long decision process of considering a disney-themed card at walgreens and just using the castle picture, but decided in the end that more pictures and cheaper cards was a better deal than paying extra to have a cartoon mouse on there...
so without further adieu, our 2009 card.
possibly gracing a refrigerator near you very very soon.
(and if it does, you have to check out our return address labels. had fun making those through vista print for free--only paid for shipping!)